Norfolk and its Churches
Photographing Norfolk's Churches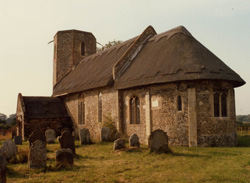 For over 30 years, the Batchelor Family have been photographing the beautiful and historic churches in Norfolk, their architecture, their interiors, their lovely Stained Glass Windows and their many endearing features; capturing the fine details of Medieval Painted Screens and wonderfully carved bench ends.
The "Norfolk and its Churches" Collection arose from a love of the county and from 40 years of family holidays. It was not long before 'The Batchelor family' (Alan, Joyce and daughter, Ruth) realised the wealth of Norfolk's heritage, with its "659 Churches prior in date of 1700, 65 churches new or re-built since that date and 245 ruined Churches, making a total of 969" (H.Munro - Cautley)
In the mid 1970's Alan, Joyce and Ruth began to organise their church photography. They had already joined The Norfolk Churches Trust, The Friends of The Round Tower Churches Society and The Friends of Norfolk Heritage, thus endeavouring to support these fine organisations in their efforts to save our Norfolk Heritage.
Photographic Exhibitions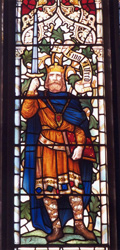 In 1985, St. Gregory's Church in Pottergate, Norwich which had become a Centre for the Arts, gave The Batchelor's the opportunity to stage their first "Norfolk and its Churches exhibition". The Exhibition has continued to be a favourite over the years and has raised much needed funds for various churches which have hosted it and for The Norfolk Churches Trust.
Over the last 25 years they have staged over 23 exhibitions in the Norfolk area, consisting of approximately 200 plus exhibition prints of varying sizes showing details from stained glass windows, pew ends ( sometimes called 'Poppy-Heads' from a corruption of 'Puppet-Head' meaning 'carved wooden figure'), wall paintings and medieval screens, alongside exterior views and landscapes; the Exhibition has been aptly described as "A Colourful study of Norfolk's Historic Churches, the Beautiful Countryside and Places of Interest taken in all seasons." Each Exhibition is different, changing the prints around and replacing older ones with new as the collection grows.
Over a Thousand Pictures
The Collection of prints, which numbers somewhere in the region of over 1000 images, has been acclaimed by the founder and President of The Norfolk Churches Trust, the late Lady Willhelmine Harrod OBE, as the finest and most comprehensive in the county of Norfolk.
The Batchelor Family moved to Sheringham in 1992, but sadly Alan died shortly afterwards. Joyce and Ruth carried on with their work for a while until Joyce's health problems prevented them from doing so.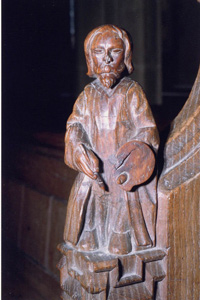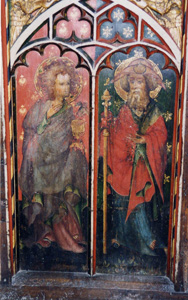 Approach to Photography
The approach to the church photography varied, sometimes they were commissioned by a church to photograph it, alternatively, they visited a church, acquainted themselves with the clergy or church wardens and then proceeded to photograph each systematically. Obviously, exterior shots benefit from good sun and blue skies, inside there is often sufficient light for full length interior shots with the help of tripod and electronic flash. Controlled flash is used for objects such as bench ends, wall paintings and medieval painted screens, the latter benefiting from flash by bringing out the full colour of these wonderful historic paintings, some often as old as 400 - 500 hundred years old.
There are many aspects to look for, the architecture, the stained glass, the wood, the historic features and specialist bits and pieces that offer themselves, all have something of interest.
It was not so much the religious angle which attracted them, but the historic heritage of these fine buildings. Most of these churches are 500 - 700 hundred years old, some even older. Some are very large, great cathedral like buildings, built in the time of wealth and prosperity in the area; when sheep rearing and cloth making was stimulated by the arrival of the flemish wool merchants and tradesmen.
A Unique Heritage
In their day, the churches were probably packed with large congregations (including the Lord of the Manor and his household) amid thriving communities. Nowadays it's a very different story; these huge medieval buildings are difficult and expensive to maintain, with sometimes only a handful of dedicated villagers who have an interest. Some have fallen into disrepair or are redundant altogether, some are no longer in the village but in a the middle of a field or farmyard, where the village has 'moved' due to plague or the economic circumstances of an earlier age; but never the less we still need our churches, they are very much still part of the village. The church is where many villagers were married, where their children and grandchildren were christened, and where their ancestors departed this life. They represent country life and this unique heritage must be preserved.
Round Tower Churches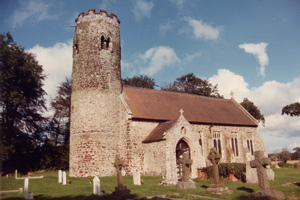 The Norfolk Round Tower churches distinguish Norfolk from anywhere else in the country. There are just 180 Round Tower Churches in England and of these 119 are in Norfolk. Some historians believe that their design originated in Italy and the Roman Empire. In Norfolk the majority are Norman and one theory is that the towers were built in the round as it was easier to build them this way when using the local flint and a red-brown substance known as pudding stone. Fine examples of these can be seen at Hales, Haddiscoe and Heckingham in S.E. Norfolk. Although some schools of thought are that Haddiscoe is pre-Conquest, i.e. Saxon. Other examples of Saxon Towers and also nearer to home are Letheringsett and Bessingham.
A Unique Resource
We did at one time offer the churches the chance to benefit from our expertise and produced a professional photographic postcard/ greetings card service, tailored specifically for their own fundraising requirements.
The whole collection, many thousands of quality images, is now in the process of being scanned onto computer and CD for archival purposes and eventually it is hoped that a copy will be held at the resource library at the University of East Anglia.
It is hoped that this display of photographs will further the interest and enthusiasm of those who visit and care for the Churches.