The Batchelor Collection - Photo Galleries
---
View all galleries - Church Exteriors - Corbels, Bosses and Angels - Fonts - Interiors - Landscapes - Oddities and Special Interest - Painted Screens - Poppy Heads and Benches - Stained Glass Windows - Wall Paintings - Past Exhibitions - Norfolk Poem -
Alan's Photo Microscopy - Ruth's Wildlife - Joyce's Award Winners
---
Poppy Heads and Benches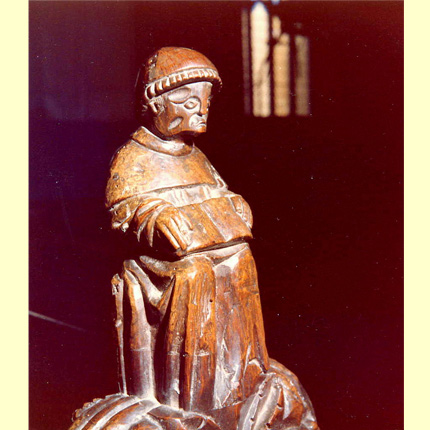 Cley, St. Margaret's, Poppy Head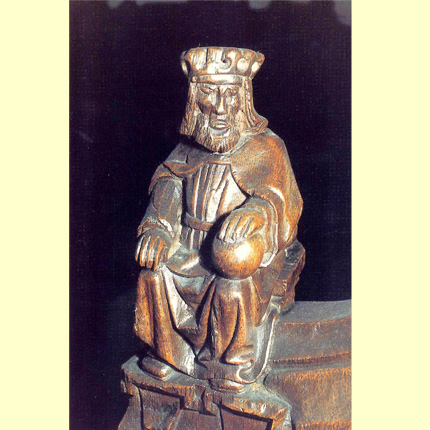 Wiggenhall, SMV.King Figure, Poppy Head
The Pedlar of Swaffham
There are varying versions of the story of the Pedlar of Swaffham, but the gist of the story is the same: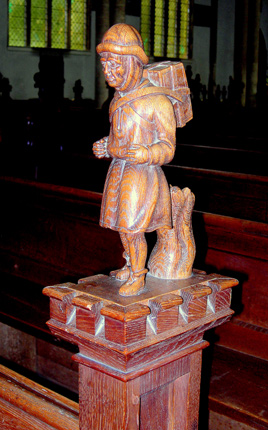 There was once a pedlar by the name of John Chapman, who lived in the Norfolk town of Swaffham. He kept having a re-occuring dream that if he should go to London and stand on London Bridge, he would learn something to his advantage, the dream bothered him so much, that he thought there may be something in it, so he packed up his belongings and with his little dog, started the long walk to London.
When he arrived in London, he walked backwards and forwards across London Bridge, but he spoke to no-one and no-one spoke to him, he stayed for several days, but he learned nothing to his advantage. Eventually, he decided it had all been a complete and utter waste of time and turned to go home. As he got to the end of the Bridge a shopkeeper stopped him and said
"I've been watching you walk up and down for days, what is it you are looking for?"
"Well" said the pedlar, "I kept having this dream, that if I came to London and stood on the Bridge, I would learn something to my advantage."
"Oh, is that it", said the shopkeeper, "You don't want to take no notice of dreams, why only the other night, I had a dream about some place in Norfolk, a little town called Swaffham, and the dream told me that if I went there and dug under the oak tree in a pedlar's garden, I would find a pot of gold! Now do you think I'm fool enough to go trekking all that way for just a dream!"
Without a second thought the Pedlar bid the shopkeeper farewell and turned tail and headed for home.
When he was home he immediately went out to his garden and dug beneath the old oak tree and low and behold he did find a pot of Gold!
Now, at this time, the Parish Church was being re-built and historic records show that John Chapman gave the majority of the money to re-build the church. However there was so much money left over that he gave it to the builders that they should continue their work by adding the north aisle.
The townsfolk were so grateful that they had wooden figures carved of him, his wife and his dog and placed on the end of the front pews, and pictures of them also in the stained glass in the north aisle.
The Little Mermaid of Upper Sheringham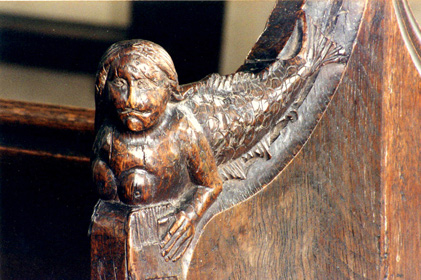 There was once a little Mermaid, swimming in the sea off the coast of Norfolk, near Sheringham, and she heard the church bells chiming out one Sunday morning calling the people to church.
"Oh"" she said, "I would so love to go to church and pray to God and hear the lovely singing."
And she decided that she would go, so she struggled out of the sea, and dragged herself all the way up the hill to Upper Sheringham - not an easy thing to do for a little mermaid. Anyway, tired and exhausted she gently pushed open the door to the church, where she was immediately spotted by the Beadle, who shouted at her: "Get you on out of 'ere, we don't want the likes of you in 'ere, we don't want no mermaids in 'ere, be gone!"
Well, the little mermaid was absolutely distraught, she had struggled so hard to get there, and was so upset that the Beadle should tell her she was not wanted. But she was a determined little Mermaid and so she slithered back to the door and quietly slipped inside and perched herself on the end on the back pew nearest the door - where she remains till this very day!
Death The Reaper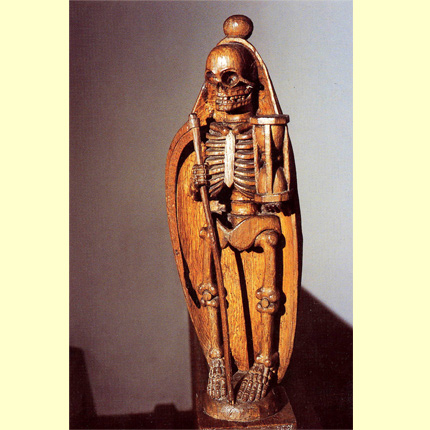 This carved Pew End in St. Andrews Church, Little Barningham is the original.
Sadly, in 1995 it was sawn off its base and stolen; never to be seen again!
There has been a replica carved since which is a very good likeness and now sits in its place.
---
View all galleries - Church Exteriors - Corbels, Bosses and Angels - Fonts - Interiors - Landscapes - Oddities and Special Interest - Painted Screens - Poppy Heads and Benches - Stained Glass Windows - Wall Paintings - Past Exhibitions - Norfolk Poem -
Alan's Photo Microscopy - Ruth's Wildlife - Joyce's Award Winners
---